ANTALYA AIRPORT (AYT) INFORMATION
Origin
Airline
Flight no.
Scheduled
Est./Actual
Status
No flight arrivals were found at Antalya Airport.
Destination
Airline
Flight no.
Scheduled
Est./Actual
Status
No flight departures were found at Antalya Airport.
Car Hire at Antalya Airport
UNBEATABLE VALUE CAR RENTAL
Free Amendments | Free Cancellations | No Card Fees




Antalya Airport - All Information on Antalya Airport (AYT) Antalya Airport
Yeşilköy, Antalya Havaalanı Dış Hatlar Terminali 1, Antalya, Turkey
phone +90 242 444 74 23
phone+90 (242) 444 7 423 Extension 3129 (Lost + Found)
emailinfo@antalya-airport.aero
call_end+90(242) 330 36 48 (fax)
Facts and History about Antalya Airport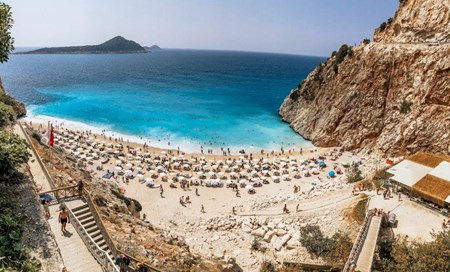 Antalya Airport, also known as Antalya Havaliman, is an international airport located 13 kilometers (8.1 miles) northeast of the city center of Antalya in Turkey.
The airport's IATA code is AYT, and its Turkish name is Antalya Havaliman. Because it is situated on the shore of the Mediterranean, it is a popular tourist destination during the summertime in Europe.
The airport is home to three terminals: two for international travel and one for domestic travel. The other two major airports in the southwestern region of Turkey are Bodrum and Dalaman, and Antalya is one of those.
History of Antalya Airport
The airport was constructed to accommodate the millions of visitors who visit the Mediterranean coast of Turkey during the summer months. It has one terminal for domestic travel and two international airports.
Bayindir Holding began constructing International Terminal 1 in 1996. It was completed and ready for use on April 1 of the following year (1998). 2005 marked the opening of Terminal 2 for international flights, while 2010 saw the debut of Terminal 2 for domestic flights.
Fraport TAV Antalya A.S., a joint venture between Fraport AG and TAV Airports, is responsible for the airport's operation. Airports Council International awarded the airport the title of Best Airport in Europe (10–25 million passenger category) in July of 2011. (ACI).
The airport served 10 million people in 2003, a 78 percent increase from the number of passengers it did in 1998. Statistics compiled by ACI place Antalya Airport in 30th place among airports that handled the most foreign passengers in 2005, 2008, and 2009.
Antalya Airport is serviced by two city buses, taxis, shuttles, and many more. This facility is also connected to the Antalya Tramway.
The Turkish Air Force uses a separate runway located immediately adjacent to the Antalya airport. The landing of civilians is strictly prohibited.
About Antalya
Antalya is the capital of Antalya Province and Turkey's fifth-most populous city. It is the largest Turkish city on the Mediterranean coast outside the Aegean. The Taurus Mountains surround its southwestern coast in Anatolia.
Around the year 200 B.C., members of the Attalid dynasty of Pergamon established the city that is today known as Antalya. However, the Romans quickly took control of the region.
Antalya flourished under Roman authority, which resulted in the construction of several new structures, such as Hadrian's Gate, and the growth of settlements in the surrounding area.
The Seljuk Sultanate took control of the city in 1207, and the growing Ottoman Empire took power in 1391. These are just two of the many occasions the city has changed hands. The subsequent five hundred years were marked by relative peace and stability thanks to Ottoman control.
On the Mediterranean coast of Turkey, the city of Antalya is home to the country's most popular tourist destination. Tourism has been helped forward by large-scale development as well as financing from the government.
Antalya Weather
The months of late April through the middle of June and the middle of September through the end of October are the most significant periods of the year to visit Antalya for outdoor tourism activities in general. Prolonged, bitterly cold, rainy, and partly foggy are typical of its winters. At the same time, its summers are dry, scorching, and arid with a lack of humidity.
The temperature rarely drops below 34 degrees Fahrenheit or climbs over 102 degrees Fahrenheit throughout the year. Still, it regularly ranges from 41 degrees to 94 degrees.
During the hot season, which begins on June 14 and continues until September 19, the daily maximum temperature is typically above 87 degrees Fahrenheit on average. August is the hottest month in Antalya, with an average high temperature of 93 degrees Fahrenheit and a low temperature of 73 degrees Fahrenheit.
The cool season begins on November 28 and continues until March 25. During this time, the average daily maximum temperature is lower than 65 degrees Fahrenheit. January is the month with the coldest average temperatures in Antalya, with lows of 42 degrees Fahrenheit and highs of 58 degrees Fahrenheit.
The sky in Antalya is at its clearest during July, the clearest month of the year. During this month, the sky is either completely clear, generally clear, or partly overcast 99 percent of the time.
The cloudier portion of the year begins around October 8 and continues for around 7.4 months, ending around May 22.
In Antalya, December is the cloudiest month of the year, with an average of 42 percent of the time spent with the sky being overcast or mostly cloudy.
Greater than a 17 percent likelihood of precipitation falling on any given day during the wetter season, which stretches for 6.0 months from October 26 to April 27. The dry season lasts 6.0 months, beginning on April 27 and ending on October 26.
The rainy season lasts 8.9 months, from September 13 to June 9; during this time, the average rainfall over the previous 31 days is at least 0.5 inches. Antalya's wettest month is December, with an average rainfall of 5.4 inches.
Throughout the year, the water temperature will fluctuate significantly due to the effects of the seasons on average. The period of the year when the water is warmer lasts for three months, beginning on July 3 and ending on October 1, with an average temperature higher than 79 degrees Fahrenheit.
August is the month of the year in Antalya when the water is often the warmest, reaching an average temperature of 84 degrees Fahrenheit. The period of the year with cooler water lasts for 4.3 months, beginning on December 20 and ending on April 30. During this season, the water's average temperature is below 66 degrees Fahrenheit.
March is the month of the year in Antalya when the water is typically the coolest, with an average temperature of 62 degrees Fahrenheit.
Antalya Airport sits 54 meters above sea level at 36°54′01″N and 30°47′34″E in Antalya, Turkey.
Transfer Services at Antalya Airport
Passengers at Antalya Airport can use several modes of comfortable transportation, including rental cars, taxis, rideshares, and shuttles in front of the airport terminal building. A train connection is available from Terminal 1 and 2. Please visit our Trains page for more details.
Located approximately 13 kilometers from Downtown, this Airport serves multiple airlines with daily service to and from several European destinations. The quickest way to get to the city center is by taxi, rideshare, or car rental, which are available from the Airport.
Planning your transfer options before hitting the road will give you peace of mind in Turkey.
Before leaving your home, know what items are allowed in your carry-on bag, what you can pack in your checked baggage, and what items are prohibited.
For the riding public's convenience and direction, passengers may call the Airport Information Desk at +90 242 444 74 23 for transport assistance anytime.
Travelers should only transact at the airport counters and other legitimate establishments for their safety.
Rental Car Services at Antalya Airport
Car Rental Services are on the ground floor of the Arrivals Hall near the terminal's Baggage Claim area.
Generally, the rental facility is open 24/7. Still, you can also inquire about specific service hours and return procedures at your service provider. See and compare all rental car companies at Antalya Airport.
To speed up the process when picking up your vehicle at the facility, please have your valid driving license, passport, and credit card ready to present at the counter.
As soon as you have submitted any necessary paperwork, someone will bring you your car key and lead you to where your vehicle is stored.
Plan and book your rental car as soon as possible ahead of your trip. Also, check with your rental car company to confirm your reservation ahead of your trip.
When ready to return your vehicle to the car rental center, remove all personal items before turning the rented vehicle to the designated facility.
Allow plenty of time for your drive when returning the vehicle. If you're unsure where to go, call the rental company.
When renting a vehicle, customers must abide by the Terms and Conditions of the rental company at all times.
Don't hesitate to contact the rental car company directly for item(s) lost and found inside the vehicle.
If you believe you lost anything near the car rental offices, approach the Lost and Found Office for assistance or call +90 (242) 444 7 423 Extension 3129.
Ideally, they will keep them in the Lost Property Office for 30 days.
Ride Shares at Antalya Airport
Rideshares pick up and drop their passengers at the designated area in front of the terminal building.
Passengers can reserve rideshare by downloading the company's app on their smartphone and coordinating directly with their driver.
They can also request a ride a few days before their flight to avoid the inconvenience.
For added safety, ridesharing apps should let users verify the identity of drivers by checking out their faces, license plates, and colors.
Taxis at Antalya Airport
You proceed to the Ground Transportation Center from the Baggage Claim area and wait for your turn for the next available taxi. See more information about taxis at Antalya Airport.
The taxi fare from Antalya Airport to Downtown should be about €5 if you take one of the taxi companies recommended by the Airport.
Trains at Antalya Airport
Trains are available at both Terminal 1 and 2. Please approach the Airport Information Desk for updated information about available services or other transportation-related inquiries. You can also visit our Trains page for more details. More information about train services at Antalya Airport.
Buses at Antalya Airport
Public buses are available from the Ground Transportation Center in front of the airport terminal. More information about buses to and from Antalya Airport.
Hotel Shuttle Services at Antalya Airport
When traveling, one of the most important things to consider is how you will get from the Airport to your hotel. For example, many hotels provide shuttle services that will take passengers directly to their hotel upon arrival.
It is an excellent option if you are looking for convenience and affordability. Your hotel or service provider will provide you with specific instructions.
Please check with your hotel if they provide this service at the Airport. Shuttles usually have a designated pick-up drop area at the Airport Ground Transportation Center.
Parking at Antalya Airport
The Airport provides safe and comfortable parking spaces for its customers. Cash and credit card payments at the facility. See more information about short and long term parking at Antalya Airport.
Other Services at Antalya Airport
Wi-Fi at Antalya Airport
Wireless Internet service is available throughout the Airport for wireless-enabled laptop computers or mobile devices at Terminal 1, 2 and 3.
Wi-Fi connection is available at the arrival and departure halls of our Terminal. Internet service is provided through DorukNet.
ATMs at Antalya Airport
There are several ATMs in the Arrivals and Departures hall. The cash machines accept Mastercard, Visa, Discover, and American Express. Fees may apply.
When you use your debit or credit card at ATMs and for purchases overseas, understanding how the fees work can help you plan appropriately and minimize your costs.
While some banks provide restrictions when drawing funds from an international location, using a foreign ATM usually results in a fee upward of $5 charged by your home bank.
You can eliminate these fees by using internationally recognized banks and structuring your home account to include free foreign ATM withdrawals.
Please inquire with your bank for more information.
Currency Exchange at Antalya Airport
Currency exchange appears to be available at the Airport Arrivals Hall. Please approach the Information Desk for confirmation.
Nursing Stations at Antalya Airport
Nursing mothers traveling through airports require a designated place to nurse and pump milk in privacy. It is a space that provides comfort for moms who need to assist their children while on the go.
If you are a nursing mother who needs some privacy, please approach the Airport Information Desk for assistance.
Restrooms at Antalya Airport
The Airport provides well-maintained restrooms and is committed to providing a pleasant experience for its guests. Accessible toilets and regular bathrooms are available throughout the building.
Food and Beverages at Antalya Airport
There are food and beverages shops throughout the airport terminals. Most food concessions operate on varying schedules. Note that food and beverages at the Airport can be a bit pricey.
Shopping at Antalya Airport
Passengers can do some last-minute shopping upon arrival or departure from this facility. Generally, shopping at any Airport is not ideal unless you are looking for last-minute travel items or gifts.
However, if you must purchase something at the Airport, select what is urgent and necessary. Ideally, you must avoid buying special clothing or electronics from the Airport. The prices are relatively higher, and the selection is usually quite limited.
Smoking at Antalya Airport
Please follow smoking regulations at the Airport to avoid the inconvenience.
Smoking is allowed in designated areas outside the terminals. When in the facility, please follow smoking regulations at all times.
Smoking areas are essential for smokers because they provide a place to smoke without leaving the facility and smoking in public.
Lost and Found Section at Antalya Airport
Please make sure to file a report before moving to your next destination. Don't forget to include your full name, contact details, phone number, Email, and a description of the item(s).
If you lost your belongings on an aircraft or gate area, don't hesitate to contact your respective airline.
If you lost an item anywhere at the terminals or concourses, including the Airport transport vehicles, reach out to the Lost and Found Section at +90 (242) 444 7 423 Extension 3129.
Items left behind at Airport Security Checkpoints are held for a minimum of 30 days or until the thing is reunited with the original owner.
Ticketing Services at Antalya Airport
Each airline has its operating hours, but typically, airlines open their ticket counters two hours before departure time, even for early morning flights.
Contact the airline directly for fares, ticket purchases, and flight schedules. Also, consider the advantages of booking a flight ahead of time.
All information and ticket purchases can be made directly by the passenger or its representative on your airline's Website.
When traveling, some people buy airline tickets through the airport kiosks.
It is a convenient option because it allows travelers to purchase tickets before their flight. Sometimes, the prices are lower than if they were to buy the tickets online.
However, there are some drawbacks to buying airline tickets at the Airport. For example, sometimes the prices are higher, and the selection of flights may be more limited.
Whichever option you choose, the ticketing counters are at the Airport terminal building.
Information Desk at Antalya Airport
The Airport Information Office can help you obtain valuable guidelines on flights, facilities, and travel options in and around the Airport.
Airport Information Desk at +90 242 444 74 23.
Pet Relief at Antalya Airport
One of the best innovations in airports over the last few years is the addition of pet relief areas. It allows passengers with pets to relieve their animals before or after a flight without going outside the airport complex.
Please look for signages if you need to relieve your four-legged friends in the area. You can also approach the Information Desk for proper guidance.
However, before flying with your pet to this facility, please check any restrictions or special rules with the airline.
You must also verify health certificates, documents, and quarantine requirements in the destination country.
When allowed, pets must be in containers (kennels) that are strong enough to withstand breaking and prevent escape.
Pet owners must respect the community rules regarding the movements of pet animals in enclosed public spaces.
All information about the necessary documents needed for your pet is available thru your airline.
Baggage Claim at Antalya Airport
Please retrieve luggage at your designated Baggage Claim on the Ground Level of the terminal. Carts are available to assist passengers with special needs.
In the case of missing items, contact your respective airline or airline ticket counter.
Report to the Lost and Found Office for lost or damaged luggage at Phone: +90 (242) 444 7 423 Extension 3129.
When leaving a message, include your name, Email, contact phone number, and a brief description of the lost item(s).
Disabled Passengers at Antalya Airport
For travelers with disabilities or medical needs who have questions about the airport policies or procedures at security checkpoints, please call +90 242 444 74 23.
Additionally, they may notify the airline, travel agent, ticketing agent, flight attendant, or gate agent when carts, wheelchairs, or medical transportation is needed.
When applicable, the travel plan should include to and from airport transfers, including transportation options and emergency care.
Finally, please arrive at the airport one hour earlier than advised. It will allow time for accommodations to be made and avoid delays through the security gates.
Antalya Airport Contacts
Address: Yeşilköy, Antalya Havaalanı Dış Hatlar Terminali 1, Antalya, Turkey
General Phone: +90 242 444 74 23
General Email: info@antalya-airport.aero
Lost and Found Phone: +90 (242) 444 7 423 Extension 3129
Information Desk: +90 242 444 74 23
Official Website: https://www.antalya-airport.aero
Local Information
Drive on: Right
Electricity: 230V/50Hz.
Plug: C, F
Currency: Turkish Lira, TL
Wi-Fi at Airport: Free Wi-Fi access is available throughout the Airport. Internet service is provided through DorukNet.
Services at Antalya Airport
Useful Information about Antalya Airport