Flights, Arrivals & Departures at Antalya Airport
Origin
Airline
Flight no.
Scheduled
Est./Actual
Status
Ankara (ESB)
AnadoluJet
TK7028
01:05
Scheduled
Istanbul (IST)
Turkish Airlines
TK2426 expand_more(2)
01:05
Scheduled
Istanbul (IST)
AirSERBIA
JU8098
01:05
Scheduled
Istanbul (IST)
SAS
SK3454
01:05
Scheduled
Istanbul (SAW)
Pegasus
PC2028
01:15
Scheduled
Istanbul (SAW)
AnadoluJet
TK7534
01:35
Scheduled
Madinah (MED)
Pegasus
PC6167
01:39
Delayed
Istanbul (IST)
Turkish Airlines
TK2428 expand_more(6)
03:40
Scheduled
Istanbul (IST)
AirSERBIA
JU8099
03:40
Scheduled
Istanbul (IST)
Finnair
AY3311
03:40
Scheduled
Istanbul (IST)
LOT
LO4623
03:40
Scheduled
Istanbul (IST)
SAS
SK3458
03:40
Scheduled
Istanbul (IST)
TAP Air Portugal
TP8814
03:40
Scheduled
Istanbul (IST)
Tarom
RO9187
03:40
Scheduled
Kazan (KZN)
Southwind Airlines
2S2824
04:35
Scheduled
Cologne (CGN)
Pegasus
PC5014
05:50
Scheduled
Hurghada (HRG)
Pegasus
PC5091
05:50
Scheduled
Dubai (DXB)
Pegasus
PC5071
05:50
Delayed
Kazan (KZN)
Southwind Airlines
2S1824
05:55
Scheduled
Amman (AMM)
Pegasus
PC1801
06:10
Scheduled
Istanbul (SAW)
Pegasus
PC2000
07:10
Scheduled
Ankara (ESB)
Pegasus
PC8040
07:40
Scheduled
Abu Dhabi (AUH)
SunExpress
XQ223
07:55
Scheduled
Moscow (VKO)
Pegasus
PC1577
08:10
Scheduled
Izmir (ADB)
SunExpress
XQ9090
08:25
Scheduled
Moscow (VKO)
Turkish Airlines
TK212
08:25
Scheduled
Adler Sochi (AER)
IrAero
IO1825
09:00
Scheduled
Istanbul (SAW)
Pegasus
PC2002
09:00
Scheduled
Ankara (ESB)
Turkish Airlines
TK7020
09:15
Scheduled
Istanbul (IST)
Turkish Airlines
TK2410 expand_more(3)
09:30
Scheduled
Istanbul (IST)
AirSERBIA
JU8085
09:30
Scheduled
Istanbul (IST)
SAS
SK3456
09:30
Scheduled
Istanbul (IST)
Singapore Airlines
SQ6262
09:30
Scheduled
Istanbul (SAW)
Turkish Airlines
TK7520
09:50
Scheduled
Makhachkala (MCX)
Red Wings
WZ4649
09:55
Scheduled
Bishkek (FRU)
Pegasus
PC709
10:00
Scheduled
Baku (GYD)
Azerbaijan Airlines
J225
10:00
Scheduled
Novosibirsk (OVB)
S7 Airlines
S75863
10:30
Scheduled
Sharm El Sheikh (SSH)
Southwind Airlines
2S8002
10:35
Scheduled
Istanbul (IST)
Turkish Airlines
TK2408 expand_more(2)
10:50
Scheduled
Istanbul (IST)
AirSERBIA
JU8083
10:50
Scheduled
Istanbul (IST)
Thai Airways
TG9326
10:50
Scheduled
Istanbul (SAW)
Pegasus
PC2004
11:05
Scheduled
Istanbul (SAW)
Turkish Airlines
TK7516
11:15
Scheduled
Izmir (ADB)
SunExpress
XQ9190
11:45
Scheduled
Ankara (ESB)
Turkish Airlines
TK7022
11:50
Scheduled
Brussels (BRU)
TUI
TB3201
12:15
Scheduled
Istanbul (IST)
Turkish Airlines
TK2414 expand_more(4)
12:25
Scheduled
Istanbul (IST)
AirSERBIA
JU8089
12:25
Scheduled
Istanbul (IST)
Malaysia Airlines
MH4302
12:25
Scheduled
Istanbul (IST)
Singapore Airlines
SQ6244
12:25
Scheduled
Istanbul (IST)
Tarom
RO9175
12:25
Scheduled
Istanbul (SAW)
Pegasus
PC4708
12:30
Scheduled
Van (VAN)
SunExpress
XQ7615
12:45
Scheduled
Istanbul (SAW)
Pegasus
PC2008
12:55
Scheduled
Beirut (BEY)
Pegasus
PC1825
13:05
Scheduled
Moscow (DME)
S7 Airlines
S73739
13:10
Scheduled
Lefkosa (ECN)
Pegasus
PC1873
13:15
Scheduled
Diyarbakir (DIY)
SunExpress
XQ7113
13:20
Scheduled
Dusseldorf (DUS)
SunExpress
XQ181
13:20
Scheduled
Istanbul (IST)
Turkish Airlines
TK2412 expand_more(1)
13:25
Scheduled
Istanbul (IST)
AirSERBIA
JU8087
13:25
Scheduled
Ankara (ESB)
Turkish Airlines
TK7024
13:45
Scheduled
Moscow (VKO)
Pobeda
DP839
14:00
Scheduled
Vienna (VIE)
SunExpress
XQ191
14:05
Scheduled
Mulhouse basel (BSL)
SunExpress
XQ111
14:10
Scheduled
Moscow (SVO)
Aeroflot
SU2146
14:20
Scheduled
London (LGW)
easyJet
U28555
14:35
Scheduled
Mineralnye Vody (MRV)
Azimuth
A46215
14:40
Scheduled
Istanbul (IST)
Turkish Airlines
TK2422
14:55
Scheduled
Istanbul (IST)
Turkish Airlines
TK2444
15:10
Scheduled
Leeds (LBA)
Jet2
LS213
15:15
Scheduled
London (STN)
Jet2
LS1465
15:15
Scheduled
Adana (ADA)
Pegasus
PC3600
15:20
Scheduled
Istanbul (SAW)
Turkish Airlines
TK7522
15:20
Scheduled
Hamburg (HAM)
Corendon Airlines
XC7536
15:30
Scheduled
Lyon (LYS)
Freebird Airlines
MI8314
15:31
Scheduled
Bremen (BRE)
SunExpress
XQ219
15:40
Scheduled
Birmingham (BHX)
Jet2
LS1239
16:10
Scheduled
Istanbul (IST)
Turkish Airlines
TK2430 expand_more(1)
16:10
Scheduled
Istanbul (IST)
AirSERBIA
JU8100
16:10
Scheduled
Istanbul (SAW)
Pegasus
PC4710
16:25
Scheduled
Moscow (SVO)
Aeroflot
SU2142
16:30
Scheduled
St Petersburg (LED)
Southwind Airlines
2S1004
16:40
Scheduled
Istanbul (IST)
Turkish Airlines
TK2416 expand_more(1)
17:10
Scheduled
Istanbul (IST)
AirSERBIA
JU8091
17:10
Scheduled
Lyon (LYS)
Freebird Airlines
FH546
17:22
Scheduled
Berlin (BER)
Pegasus
PC5008
17:30
Scheduled
Ankara (ESB)
Turkish Airlines
TK7030
17:40
Scheduled
Dusseldorf (DUS)
Southwind Airlines
2S3002
17:40
Scheduled
Gaziantep (GZT)
SunExpress
XQ7647
17:45
Scheduled
Stuttgart (STR)
Southwind Airlines
2S3010
17:45
Scheduled
Istanbul (IST)
Turkish Airlines
TK2432 expand_more(3)
18:10
Scheduled
Istanbul (IST)
AirSERBIA
JU8102
18:10
Scheduled
Istanbul (IST)
SAS
SK3438
18:10
Scheduled
Istanbul (IST)
Singapore Airlines
SQ6210
18:10
Scheduled
Istanbul (SAW)
Turkish Airlines
TK7514
18:10
Scheduled
Munich (MUC)
SunExpress
XQ131 expand_more(1)
18:15
Scheduled
Munich (MUC)
Lufthansa
LH9590
18:15
Scheduled
Cologne (CGN)
Corendon Airlines
XC7544
18:25
Scheduled
Adler Sochi (AER)
Aeroflot
SU6753
18:40
Scheduled
Istanbul (SAW)
Pegasus
PC2014
18:40
Scheduled
Berlin (BER)
SunExpress
XQ161
18:45
Scheduled
Zurich (ZRH)
SunExpress
XQ121 expand_more(1)
19:00
Scheduled
Zurich (ZRH)
Swiss
LX4268
19:00
Scheduled
Stuttgart (STR)
SunExpress
XQ151
19:00
Scheduled
Adana (ADA)
SunExpress
XQ7631
19:05
Scheduled
Hanover (HAJ)
SunExpress
XQ233
19:05
Scheduled
Lefkosa (ECN)
Turkish Airlines
TK981
19:10
Scheduled
Hamburg (HAM)
SunExpress
XQ171
19:10
Scheduled
Cologne (CGN)
SunExpress
XQ115
19:15
Scheduled
Frankfurt (FRA)
SunExpress
XQ141 expand_more(1)
19:15
Scheduled
Frankfurt (FRA)
Lufthansa
LH9594
19:15
Scheduled
Dusseldorf (DUS)
SunExpress
XQ185
19:15
Scheduled
Sofia (SOF)
Pegasus
PC5544
19:15
Scheduled
Birmingham (BHX)
SunExpress
XQ597
19:25
Scheduled
Cologne (CGN)
Corendon Airlines
XC7906
19:30
Scheduled
Manchester (MAN)
SunExpress
XQ595
19:40
Scheduled
Rostock-laage (RLG)
Corendon Airlines
XC7882
19:40
Scheduled
Istanbul (SAW)
Pegasus
PC4920
19:40
Scheduled
Luton (LTN)
easyJet
U22555
19:50
Scheduled
London (LGW)
SunExpress
XQ591
20:00
Scheduled
Istanbul (IST)
Turkish Airlines
TK2420 expand_more(4)
20:05
Scheduled
Istanbul (IST)
AirSERBIA
JU8094
20:05
Scheduled
Istanbul (IST)
Finnair
AY3313
20:05
Scheduled
Istanbul (IST)
Royal Air Maroc
AT9435
20:05
Scheduled
Istanbul (IST)
SAS
SK3452
20:05
Scheduled
Moscow (VKO)
Pegasus
PC1581
20:10
Scheduled
Istanbul (SAW)
Pegasus
PC2020 expand_more(2)
20:10
Scheduled
Istanbul (SAW)
Flynas
XY5020
20:10
Scheduled
Istanbul (SAW)
ITA Airways
AZ6075
20:10
Scheduled
Istanbul (SAW)
Pegasus
PC4786
20:55
Scheduled
Kayseri (ASR)
Pegasus
PC3503
21:00
Scheduled
Ankara (ESB)
Pegasus
PC8042
21:00
Scheduled
Istanbul (SAW)
Turkish Airlines
TK7518
21:00
Scheduled
Ankara (ESB)
Turkish Airlines
TK7026
21:10
Scheduled
Istanbul (IST)
Turkish Airlines
TK2418 expand_more(2)
21:10
Scheduled
Istanbul (IST)
AirSERBIA
JU8093
21:10
Scheduled
Istanbul (IST)
SAS
SK3450
21:10
Scheduled
Manchester (MAN)
easyJet
U22141
21:30
Scheduled
Adana (ADA)
SunExpress
XQ7711
21:45
Scheduled
Lefkosa (ECN)
Pegasus
PC7106
21:45
Scheduled
Kayseri (ASR)
SunExpress
XQ7033
21:55
Scheduled
Istanbul (SAW)
Pegasus
PC2024 expand_more(1)
21:55
Scheduled
Istanbul (SAW)
Flynas
XY5024
21:55
Scheduled
Berlin (BER)
SunExpress
XQ661
22:05
Scheduled
Istanbul (SAW)
Turkish Airlines
TK7540
22:10
Scheduled
Istanbul (IST)
Turkish Airlines
TK2424 expand_more(4)
22:30
Scheduled
Istanbul (IST)
AirSERBIA
JU8096
22:30
Scheduled
Istanbul (IST)
Royal Air Maroc
AT9433
22:30
Scheduled
Istanbul (IST)
SAS
SK3482
22:30
Scheduled
Istanbul (IST)
TAP Air Portugal
TP8858
22:30
Scheduled
Brussels (BRU)
SunExpress
XQ551 expand_more(1)
22:35
Scheduled
Brussels (BRU)
Brussels Airlines
SN4253
22:35
Scheduled
Diyarbakir (DIY)
SunExpress
XQ7713
22:45
Scheduled
Prague (PRG)
SunExpress
XQ321
22:50
Scheduled
Izmir (ADB)
SunExpress
XQ7293
23:05
Scheduled
Istanbul (SAW)
Pegasus
PC2026
23:10
Scheduled
Saarbruecken (SCN)
SunExpress
XQ127
23:20
Scheduled
Nürnberg (NUE)
Corendon Airlines
XC7882
23:30
Scheduled
Lefkosa (ECN)
Pegasus
PC1871
23:40
Scheduled
Destination
Airline
Flight no.
Scheduled
Est./Actual
Status
Istanbul (ISL)
Redstar Aviation
RHH432
00:10
Scheduled
Amman (AMM)
Pegasus
PC1800
00:55
Scheduled
Istanbul (IST)
Turkish Airlines
TK2429 expand_more(3)
04:40
Scheduled
Istanbul (IST)
Finnair
AY3312
04:40
Scheduled
Istanbul (IST)
LOT
LO4624
04:40
Scheduled
Istanbul (IST)
TAP Air Portugal
TP8813
04:40
Scheduled
Istanbul (SAW)
Pegasus
PC2029 expand_more(1)
05:35
Scheduled
Istanbul (SAW)
ITA Airways
AZ6076
05:35
Scheduled
Sharm el-Sheikh (SSH)
Southwind Airlines
2S2824
05:35
Scheduled
Ankara (ESB)
AnadoluJet
TK7029
05:45
Scheduled
Basel (BSL)
SunExpress
XQ110
06:10
Scheduled
Istanbul (IST)
Turkish Airlines
TK2427
06:15
Scheduled
Ercan (ECN)
Pegasus
PC1870
06:25
Scheduled
Istanbul (SAW)
Pegasus
PC2027 expand_more(1)
06:35
Scheduled
Istanbul (SAW)
Flynas
XY5027
06:35
Scheduled
St. Petersburg (LED)
Southwind Airlines
2S1003
07:00
Scheduled
Bremen (BRE)
SunExpress
XQ218
07:15
Scheduled
Hamburg (HAM)
Corendon Airlines
XC7535
07:15
Scheduled
Vienna (VIE)
SunExpress
XQ190
07:30
Scheduled
Kayseri (ASR)
SunExpress
XQ7032
07:30
Scheduled
Istanbul (SAW)
AnadoluJet
TK7535
07:40
Scheduled
Adana (ADA)
SunExpress
XQ7630
07:45
Scheduled
Adana (ADA)
Pegasus
PC3601
07:55
Scheduled
Istanbul (SAW)
Pegasus
PC2001 expand_more(1)
08:00
Scheduled
Istanbul (SAW)
Flynas
XY5001
08:00
Scheduled
Rostock (RLG)
Corendon Airlines
XC7543
08:00
Scheduled
Van (VAN)
SunExpress
XQ7614
08:05
Scheduled
Ankara (ESB)
Pegasus
PC8041
08:15
Scheduled
Istanbul (SAW)
Pegasus
PC4707
08:55
Scheduled
Dusseldorf (DUS)
Southwind Airlines
2S3001
09:00
Scheduled
Izmir (ADB)
SunExpress
XQ9091
09:05
Scheduled
Diyarbakir (DIY)
SunExpress
XQ7112
09:15
Scheduled
Istanbul (IST)
Turkish Airlines
TK2419
09:15
Scheduled
Manchester (MAN)
SunExpress
XQ594
09:15
Scheduled
Beirut (BEY)
Pegasus
PC1824
09:25
Scheduled
Lyon (LYS)
Freebird Airlines
FH545
09:35
Scheduled
Moscow (VKO)
Pegasus
PC1580
09:40
Scheduled
Birmingham (BHX)
SunExpress
XQ596
09:45
Scheduled
Berlin (BER)
Pegasus
PC5007
09:45
Scheduled
Ankara (ESB)
Turkish Airlines
TK7021
09:50
Scheduled
Istanbul (SAW)
Pegasus
PC2003
09:50
Scheduled
London (LGW)
SunExpress
XQ590
09:55
Scheduled
Nuremberg (NUE)
Corendon Airlines
XC7905
10:00
Scheduled
Stuttgart (STR)
Southwind Airlines
2S3009
10:00
Scheduled
Hannover (HAJ)
Corendon Airlines
XC7881
10:00
Scheduled
Istanbul (IST)
Turkish Airlines
TK2411 expand_more(4)
10:15
Scheduled
Istanbul (IST)
AirSERBIA
JU8086
10:15
Scheduled
Istanbul (IST)
Royal Air Maroc
AT9434
10:15
Scheduled
Istanbul (IST)
TAP Air Portugal
TP8865
10:15
Scheduled
Istanbul (IST)
Thai Airways
TG9332
10:15
Scheduled
Dusseldorf (DUS)
SunExpress
XQ184
10:30
Scheduled
Istanbul (SAW)
Turkish Airlines
TK7521
10:35
Scheduled
Hamburg (HAM)
SunExpress
XQ170
10:40
Scheduled
Cologne (CGN)
SunExpress
XQ114
10:40
Scheduled
Frankfurt (FRA)
SunExpress
XQ140 expand_more(1)
10:45
Scheduled
Frankfurt (FRA)
Lufthansa
LH9595
10:45
Scheduled
Hannover (HAJ)
SunExpress
XQ232
10:45
Scheduled
Makhachkala (MCX)
Red Wings
WZ4650
10:45
Scheduled
Frankfurt (FRA)
SunExpress
XQ1
10:45
Scheduled
Munich (MUC)
SunExpress
XQ130 expand_more(1)
10:50
Scheduled
Munich (MUC)
Lufthansa
LH9591
10:50
Scheduled
Berlin (BER)
SunExpress
XQ160
10:55
Scheduled
Istanbul (SAW)
Pegasus
PC4066
11:00
Scheduled
Baku (GYD)
Azerbaijan Airlines
J226
11:00
Scheduled
Stuttgart (STR)
SunExpress
XQ150
11:05
Scheduled
Zurich (ZRH)
SunExpress
XQ120 expand_more(1)
11:10
Scheduled
Zurich (ZRH)
Swiss
LX4269
11:10
Scheduled
Novosibirsk (OVB)
S7 Airlines
S75864
11:30
Scheduled
Sochi (AER)
IrAero
IO1826
11:30
Scheduled
Istanbul (IST)
Turkish Airlines
TK2409 expand_more(5)
11:35
Scheduled
Istanbul (IST)
AirSERBIA
JU8084
11:35
Scheduled
Istanbul (IST)
Finnair
AY3329
11:35
Scheduled
Istanbul (IST)
SAS
SK3436
11:35
Scheduled
Istanbul (IST)
Singapore Airlines
SQ6245
11:35
Scheduled
Istanbul (IST)
Thai Airways
TG9330
11:35
Scheduled
Istanbul (SAW)
Pegasus
PC2005 expand_more(1)
11:40
Scheduled
Istanbul (SAW)
ITA Airways
AZ6072
11:40
Scheduled
Istanbul (SAW)
Turkish Airlines
TK7517
11:55
Scheduled
Ercan (ECN)
Pegasus
PC7101
12:10
Scheduled
Izmir (ADB)
SunExpress
XQ9191
12:20
Scheduled
Ankara (ESB)
Turkish Airlines
TK7023
12:25
Scheduled
Brussels (BRU)
TUI
TB3202
12:45
Scheduled
Istanbul (SAW)
Pegasus
PC4709
13:05
Scheduled
Istanbul (IST)
Turkish Airlines
TK2415 expand_more(4)
13:10
Scheduled
Istanbul (IST)
AirSERBIA
JU8090
13:10
Scheduled
Istanbul (IST)
Royal Air Maroc
AT9436
13:10
Scheduled
Istanbul (IST)
SAS
SK3425
13:10
Scheduled
Istanbul (IST)
Thai Airways
TG9337
13:10
Scheduled
Brussels (BRU)
SunExpress
XQ550 expand_more(1)
13:45
Scheduled
Brussels (BRU)
Brussels Airlines
SN4252
13:45
Scheduled
Ercan (ECN)
Pegasus
PC1872
13:50
Scheduled
Istanbul (SAW)
Pegasus
PC2009
14:05
Scheduled
Berlin (BER)
SunExpress
XQ660
14:10
Scheduled
Moscow (DME)
S7 Airlines
S73740
14:10
Scheduled
Istanbul (IST)
Turkish Airlines
TK2413 expand_more(3)
14:10
Scheduled
Istanbul (IST)
AirSERBIA
JU8088
14:10
Scheduled
Istanbul (IST)
Finnair
AY3328
14:10
Scheduled
Istanbul (IST)
Malaysia Airlines
MH4307
14:10
Scheduled
Ankara (ESB)
Turkish Airlines
TK7025
14:20
Scheduled
Gaziantep (GZT)
SunExpress
XQ7646
14:20
Scheduled
Moscow (VKO)
Pobeda
DP840
14:30
Scheduled
Sofia (SOF)
Pegasus
PC5543
14:55
Scheduled
Saarbrucken (SCN)
SunExpress
XQ126
15:00
Scheduled
Moscow (SVO)
Aeroflot
SU2147
15:20
Scheduled
London (LGW)
easyJet
U28556
15:35
Scheduled
Frankfurt (FRA)
SunExpress
XQ144 expand_more(1)
15:35
Scheduled
Frankfurt (FRA)
Lufthansa
LH9419
15:35
Scheduled
Istanbul (IST)
Turkish Airlines
TK2423
15:40
Scheduled
Mineralnye Vody (MRV)
Azimuth
A46216
15:40
Scheduled
Copenhagen (CPH)
SunExpress
XQ570
15:55
Scheduled
Prague (PRG)
SunExpress
XQ320
15:55
Scheduled
Ercan (ECN)
Turkish Airlines
TK980
16:00
Scheduled
Istanbul (SAW)
Turkish Airlines
TK7523
16:05
Scheduled
Adana (ADA)
SunExpress
XQ7710
16:10
Scheduled
Leeds (LBA)
Jet2
LS214
16:15
Scheduled
London (STN)
Jet2
LS1466
16:15
Scheduled
Istanbul (IST)
Turkish Airlines
TK2431 expand_more(1)
16:55
Scheduled
Istanbul (IST)
AirSERBIA
JU8101
16:55
Scheduled
Birmingham (BHX)
Jet2
LS1240
17:10
Scheduled
Moscow (SVO)
Aeroflot
SU2143
17:30
Scheduled
Frankfurt (FRA)
Freebird Airlines
FH243
17:40
Scheduled
Yekaterinburg (SVX)
Southwind Airlines
2S1713
17:40
Scheduled
Dusseldorf (DUS)
SunExpress
XQ180
17:45
Scheduled
Kayseri (ASR)
Pegasus
PC3502
17:55
Scheduled
Istanbul (IST)
Turkish Airlines
TK2417 expand_more(1)
17:55
Scheduled
Istanbul (IST)
AirSERBIA
JU8092
17:55
Scheduled
Ankara (ESB)
Turkish Airlines
TK7031
18:15
Scheduled
Diyarbakir (DIY)
SunExpress
XQ7712
18:40
Scheduled
Istanbul (IST)
Turkish Airlines
TK2433 expand_more(2)
18:55
Scheduled
Istanbul (IST)
AirSERBIA
JU8103
18:55
Scheduled
Istanbul (IST)
SAS
SK3479
18:55
Scheduled
Moscow (SVO)
Southwind Airlines
2S1001
19:00
Scheduled
Izmir (ADB)
SunExpress
XQ9291
19:15
Scheduled
Sochi (AER)
Aeroflot
SU6754
19:30
Scheduled
Istanbul (SAW)
Pegasus
PC2015
19:30
Scheduled
Istanbul (SAW)
Turkish Airlines
TK7515
19:40
Scheduled
Istanbul (IST)
Turkish Airlines
TK2445
20:00
Scheduled
Izmir (ADB)
SunExpress
XQ7292
20:15
Scheduled
Istanbul (SAW)
Pegasus
PC4921
20:20
Scheduled
London (LTN)
easyJet
U22556
20:40
Scheduled
Istanbul (IST)
Turkish Airlines
TK2421 expand_more(3)
20:50
Scheduled
Istanbul (IST)
AirSERBIA
JU8095
20:50
Scheduled
Istanbul (IST)
SAS
SK3434
20:50
Scheduled
Istanbul (IST)
Tarom
RO9174
20:50
Scheduled
Trabzon (TZX)
SunExpress
XQ7618
21:00
Scheduled
Istanbul (SAW)
Pegasus
PC2021
21:00
Scheduled
Almaty (ALA)
Pegasus
PC110
21:20
Scheduled
Samsun (SZF)
SunExpress
XQ7780
21:20
Scheduled
Dubai (DXB)
SunExpress
XQ208
21:30
Scheduled
Cologne (CGN)
Pegasus
PC5013
21:30
Scheduled
Ankara (ESB)
Pegasus
PC8043
21:35
Scheduled
Moscow (VKO)
Pegasus
PC1576
21:40
Scheduled
Bishkek (FRU)
Pegasus
PC708
21:40
Scheduled
St. Petersburg (LED)
Pegasus
PC1594
21:45
Scheduled
Ankara (ESB)
Turkish Airlines
TK7027
21:45
Scheduled
Istanbul (SAW)
Turkish Airlines
TK7519
22:00
Scheduled
Moscow (VKO)
Turkish Airlines
TK211
22:05
Scheduled
Manchester (MAN)
easyJet
U22142
22:20
Scheduled
Istanbul (SAW)
Pegasus
PC2025
22:45
Scheduled
Istanbul (SAW)
Pegasus
PC4787
22:50
Scheduled
Istanbul (SAW)
Turkish Airlines
TK7541
23:15
Scheduled
Istanbul (IST)
Turkish Airlines
TK2425 expand_more(1)
23:15
Scheduled
Istanbul (IST)
AirSERBIA
JU8097
23:15
Scheduled
Tbilisi (TBS)
Pegasus
PC1840
23:35
Scheduled
Sharm el-Sheikh (SSH)
Pegasus
PC5088
23:55
Scheduled
Flying To and From Antalya Airport
This page provides information about the destinations that can be reached via Antalya Airport.
Was your flight delayed or cancelled?
You may be eligible to receive up to 600 EUR compensation per person in your party..
Claim Now!
Beat the Queues
Don't stand sweating for 45 mins waiting for Security. Get a fast track and get through in 5 mins or less.
Book now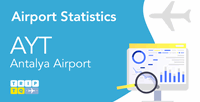 Antalya Airport in Turkey is one such airport that has demonstrated resilience in its recovery, recording a 0.20% increase in passenger volumes for September 2023 compared to the same month in 2019.