Antalya Airport Departures (AYT)
Not all flights may be showing. If not available use search above to find your flight by airline, airport or flight number.
Destination
Airline
Flight no.
Scheduled
Est./Actual
Status
Istanbul (IST)
Turkish Airlines
TK2429 expand_more(3)
04:40
Scheduled
Istanbul (IST)
Finnair
AY3312
04:40
Scheduled
Istanbul (IST)
LOT
LO4624
04:40
Scheduled
Istanbul (IST)
TAP Air Portugal
TP8813
04:40
Scheduled
Istanbul (SAW)
Pegasus
PC2029 expand_more(1)
05:35
Scheduled
Istanbul (SAW)
ITA Airways
AZ6076
05:35
Scheduled
Sharm el-Sheikh (SSH)
Southwind Airlines
2S2824
05:35
Scheduled
Ankara (ESB)
AnadoluJet
TK7029
05:45
Scheduled
Basel (BSL)
SunExpress
XQ110
06:10
Scheduled
Istanbul (IST)
Turkish Airlines
TK2427
06:15
Scheduled
Ercan (ECN)
Pegasus
PC1870
06:25
Scheduled
Istanbul (SAW)
Pegasus
PC2027 expand_more(1)
06:35
Scheduled
Istanbul (SAW)
Flynas
XY5027
06:35
Scheduled
No flight departures were found at Antalya Airport.
Flight Departures at Antalya Airport
Before leaving your transportation vehicle at Turkey's Antalya Airport, ensure you have all your personal items.
Also, passengers should get to the Airport at least two hours before their flight unless the airline tells them otherwise.
The distance between Downtown and the Airport is about 13 kilometers or approximately 20 to 25 minutes by car.
Parking at Antalya Airport
Airports are often a traveler's first and last impression of a city. And though airport parking can be expensive, having a secure place to leave your car is essential.
Most airports offer various parking services, from long-term to short-term to valet. Which service is best for your needs?
At the two parking lots at Antalya Airport, there are enough spots. But, depending on the day, some places can fill up quickly. See more information about short and long term parking at Antalya Airport.
When taking your car to the Airport, please give yourself plenty of time. At the facility, you can pay with cash or a credit card. It's always open.
Transfer Services at Antalya Airport
People with outbound flights can get to the Airport by renting a car, taking a taxi, using a rideshare service, taking a shuttle, or taking a shuttle bus.
Rental Car Services at Antalya Airport
When you're ready to give the rented car back to the car rental center, you should take out all of your personal items first. See all rental car companies at Antalya Airport.
When you return the car, give yourself plenty of time to get there. Call the rental company if you don't know where to go.
When renting a car, customers must always follow the rental company's Terms and Conditions.
Call the rental car company if you lost or found something inside the car.
If you think you lost something near the rental office, don't be afraid to call the Lost and Found Office. Phone: +90 (242) 444 7 423 Extension 3129.
Ride Shares at Antalya Airport
Rideshares drop off passengers at the designated area in front of the terminal building.
Riders can book rideshare by getting the company's app on their phones and talking with their driver directly.
They can also ask for a ride a few days before their flight, which will save them trouble.
For more safety, ridesharing apps should let users check the faces, license plates, and colors of drivers to make sure they are who they say they are.
Taxis at Antalya Airport
From Downtown, a one-way fare should be around 5 Euros, depending on where you're going.
If you are going outside the city, please ask your driver how much it will cost. For good service, it is common to tip the driver 15–20 percent of the fare. More information about taxis at Antalya Airport.
Keep track of the taxi company, vehicle number, and driver's name when going to the Airport, just in case you leave something behind.
Trains at Antalya Airport
AntRay Tram has two stations at this Airport, Terminals 1 and 2. More information about train services at Antalya Airport.
Buses at Antalya Airport
Public buses drop passengers at the Ground Transportation Center in front of the airport terminal. Further information about buses to and from Antalya Airport.
Hotel Shuttle Services at Antalya Airport
Antalya City hotels may provide an Airport shuttle service. Passengers should confirm this with their respective hotels. Shuttles drop passengers at the Ground Transportation Center in front of the terminal.
Other Services at Antalya Airport
Wi-Fi at Antalya Airport
Avail of the free Wi-Fi service at Antalya Airport.
ATMs at Antalya Airport
In the Departures Hall, there are several ATMs. The machine takes American Express, Mastercard, Visa, and Discover. There may be a fee.
Currency Exchange at Antalya Airport
Please confirm with the Information Desk if the service is available at the Airport.
Nursing Stations at Antalya Airport
At Antalya Airport, there are no special places set aside for nursing mothers or families traveling with children. If a nursing mother needs some privacy, she can ask for help at the Airport Information Desk.
Restrooms at Antalya Airport
There are both regular and accessible bathrooms all over the Airport.
Food and Beverages at Antalya Airport
There are several places to buy food and drinks all over the airport terminals. Most food stands are open at different times.
Shopping at Antalya Airport
Passengers can do some last-minute shopping before departure from this facility.
Smoking at Antalya Airport
Usually, you can only smoke in certain places outside the terminals. Please always follow the rules about smoking in the building. There is no place to smoke inside the terminal building at Antalya Airport.
Lost and Found Section at Antalya Airport
You can call the Lost and Found Section at +90 (242) 444 7 423 Extension 3129 if you lost something in any other part of the Airport, such as the security checkpoints or shuttle buses.
Ticketing Services at Antalya Airport
Each airline has its own hours, but in general, ticket counters open two hours before a flight leaves, even if it leaves early in the morning.
Call the airline directly to find out about prices, how to buy tickets, and flight times. Also, think about the benefits of making a flight reservation ahead of time.
On your airline's website, passengers or their agents can find out everything they need to know and buy tickets.
Airport Information Desk at Antalya Airport
The Airport Information Desk can help you obtain valuable guidelines on flights, facilities, and travel options in and around the Airport.
Contact the Airport Information Desk for prompt assistance, or call them at +90 242 444 74 23.
Pet Relief at Antalya Airport
Please approach any ground personnel for directions to the pet relief area. Before flying with your pet out of Turkey, please check any restrictions or special rules with the airline.
You should also check to see if there are any health certificates, documents, or quarantine rules.
When pets are allowed, they must be in strong containers (kennels) that won't break and won't let them get away.
Pet owners must follow the rules about how their pets can move around in enclosed public spaces.
Your airline can give you all the information you need about the documents you need for your pet.
Disabled Passengers at Antalya Airport
Call +90 242 444 74 23 if you are a traveler with a disability or medical needs and have questions about airport rules or procedures at security checkpoints.
When they need carts, wheelchairs, or medical transportation, they can let the airline, travel agent, ticketing agent, flight attendant, or gate agent know.
Lastly, people who need special help are told to get to the Airport an hour earlier than usual. It will give people time to make plans and prevent long lines at the security gates.
Was your flight delayed or cancelled?
You may be eligible to receive up to 600 EUR compensation per person in your party..
Claim Now!
Beat the Queues
Don't stand sweating for 45 mins waiting for Security. Get a fast track and get through in 5 mins or less.
Book now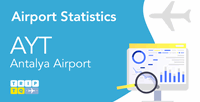 Antalya Airport in Turkey is one such airport that has demonstrated resilience in its recovery, recording a 0.20% increase in passenger volumes for September 2023 compared to the same month in 2019.