Antalya Airport Arrivals (AYT)
Not all flights may be showing. If not available use search above to find your flight by airline, airport or flight number.
Origin
Airline
Flight no.
Scheduled
Est./Actual
Status
Istanbul (IST)
Turkish Airlines
TK2428 expand_more(6)
03:40
Scheduled
Istanbul (IST)
AirSERBIA
JU8099
03:40
Scheduled
Istanbul (IST)
Finnair
AY3311
03:40
Scheduled
Istanbul (IST)
LOT
LO4623
03:40
Scheduled
Istanbul (IST)
SAS
SK3458
03:40
Scheduled
Istanbul (IST)
TAP Air Portugal
TP8814
03:40
Scheduled
Istanbul (IST)
Tarom
RO9187
03:40
Scheduled
Kazan (KZN)
Southwind Airlines
2S2824
04:35
Scheduled
Cologne (CGN)
Pegasus
PC5014
05:50
Scheduled
Hurghada (HRG)
Pegasus
PC5091
05:50
Scheduled
Dubai (DXB)
Pegasus
PC5071
05:50
Delayed
Kazan (KZN)
Southwind Airlines
2S1824
05:55
Scheduled
Amman (AMM)
Pegasus
PC1801
06:10
Scheduled
Istanbul (SAW)
Pegasus
PC2000
07:10
Scheduled
No flight arrivals were found at Antalya Airport.
Flight Arrivals at Antalya Airport
Upon arrival at Antalya Airport, retrieve your luggage and other personal belongings at the designated Baggage Claim area.
Important Note:
Different entry rules may apply when traveling with a temporary passport or an emergency travel document. Before you leave, check with the closest foreign representative for your destination.
Only nationals of a select number of countries are eligible to apply for a visa upon arrival in Turkey. A visitor must satisfy several prerequisites to be eligible for a visa upon arrival.
Once they have arrived at the port of entry, travelers must wait in line to pay the visa fee in cash. The online Turkish visa is available to anyone qualified for a visa upon arrival, which is pretty much everyone.
Before departing the country, visitors are strongly encouraged to apply for a visa to enter Turkey.
Wi-Fi at Antalya Airport
Wi-Fi service is available throughout all indoor public areas at the Airport, including the main terminal, departure gates, and baggage claim areas. Internet service is provided through DorukNet.
Transfer Services at Antalya Airport
This Airport provides several ground transportation facilities, including rental cars, taxis, rideshares, shuttles, trains, and buses.
Rental Car Services at Antalya Airport
Check out their service counters at the terminal's Arrivals Hall for your Car Rental needs.
Car Rental has service counters in the Arrivals Hall of the airport terminal.
Most of the time, the rental place is open all the time. Still, you can also ask your service provider about specific service hours and return procedures. See and compare all rental car companies at Antalya Airport.
When picking up your car at the facility, please have your valid driver's license, passport, and credit card ready to show at the counter. This will speed up the process.
Once you've turned in all the necessary paperwork, someone will give you your car key and show you where your car is kept.
Plan and reserve your rental car as soon as you can before your trip. Check with the car rental company ahead of your trip to ensure your reservation is still good.
Ride Shares at Antalya Airport
Some passengers don't know that airports have rideshare services. You can skip the expensive airport taxis and pay much less to get where you need to go. This service might be cheaper than getting a taxi from the Airport.
Passengers are picked up by rideshares at a designated spot in front of the terminal building.
Riders can book rideshare by getting the company's app on their phones and talking with their driver directly.
They can also ask for a ride a few days before their flight, which will save them trouble.
Taxis at Antalya Airport
Go to the Ground Transportation Center and wait for the next taxi to come along. Depending on where you are, it should cost less than 5 Euros to get from the Airport to downtown.
If you need to go outside of the city, ask your driver how much it will cost. It's common to tip the driver 15–20 percent of the fare for good service. See more information about taxis at Antalya Airport.
Don't forget to write down the taxi company, vehicle number, and driver's name before you leave the Airport, in case you leave something behind.
Trains at Antalya Airport
Trains are available at Terminals 1 and 2 of this Airport. Please follow the direction to the tram platform. More information about train services at Antalya Airport.
Buses at Antalya Airport
The Ground Transportation Center is in front of the airport terminal and has bus stops for the public. More information about buses to and from Antalya Airport.
Hotel Shuttle Services at Antalya Airport
In this city, many hotels offer shuttle service. Passengers can check with the hotel where they are staying to see if this is available. Shuttles pick up people in front of the terminal at the Ground Transportation Center.
Parking at Antalya Airport
Antalya Airport has enough parking spaces for its customers. You may also call +90 242 444 74 23 for your parking-related concerns. Credit card and cash payments are accepted at the facility. See more information about short and long term parking at Antalya Airport.
Other Services at Antalya Airport
ATMs at Antalya Airport
At the Arrivals Hall, there are several ATMs. The machine takes American Express, Mastercard, Visa, and Discover. There may be a fee. Check the fees and the amount you can take out each day.
Some banks may provide restrictions when drawing funds from an international location. You might need to notify your bank to ensure safe and convenient access to your funds when traveling abroad.
Currency Exchange at Antalya Airport
Currency exchange appears to be available at this Airport. Please confirm with the Information Desk.
Nursing Stations at Antalya Airport
There are designated areas for nursing mothers or special quarters for families traveling with children at the Airport. Please approach the Airport Information Desk for assistance.
Restrooms at Antalya Airport
There are regular restrooms and restrooms for people with disabilities all over the Airport.
Food and Beverages at Antalya Airport
There are places to buy food and drinks all over the airport terminals. Most food stands are open at different times.
Shopping at Antalya Airport
When passengers get to this building, they can do some last-minute shopping.
Smoking at Antalya Airport
Only certain places outside the terminals are allowed to be smoked. Please always follow the rules about smoking in the building. There is no place to smoke inside the terminal building at Antalya Airport.
Lost and Found Section at Antalya Airport
Don't be afraid to call the airline's lost and found if you lost something on the plane or at the gate.
You can call the Lost and Found Section at +90 (242) 444 7 423 Extension 3129 if you lost something in any other part of the Airport, such as the security checkpoints or shuttle buses.
When you leave information about lost items, please include your full name, phone number, email address, and a description of the lost item(s) (s).
All lost and found items will be kept at the Airport for at least 30 days.
Airport Information Desk at Antalya Airport
The Airport Information Desk can help you obtain valuable guidelines on flights, facilities, and travel options in and around the Airport. Phone: +90 242 444 74 23.
Pet Relief at Antalya Airport
There is a pet service area at the facility. Please approach any uniformed personnel for its location outside of the facility.
Before flying with your pet to this facility, check the restrictions or special rules.
It would help if you also verified whether any health certificates or documents might require quarantine procedures in the destination country.
When allowed, pets must be in containers that are strong enough to withstand breaking and prevent escape.
Pet owners must follow the rules about how their pets can move around in enclosed public spaces.
Your airline can give you all the information you need about the documents you need for your pet.
Baggage Claim at Antalya Airport
Please get your bags at the Baggage Claim area for your flight on the ground floor of the terminal. Passengers with special needs can get help from carts.
If you lose something, you should call your airline or go to the airline ticket counter.
Send your lost or broken luggage to the Lost and Found Office. You can also call them at +90 (242) 444-7-423 and ask for Extension 3129.
Include your name, email address, phone number, and a short description of the lost item in your message (s).
Disabled Passengers at Antalya Airport
It can be hard to travel with people who are sick or have special needs. If you need anything, don't forget to go to the Information Desk.
At Antalya Airport, you can call +90 242 444 74 23 to get information.
The travel plan should include how to get to and from the Airport, how to get around, and what to do in case of an emergency.
When people need carts, wheelchairs, or medical transportation, they can let the airline, travel agent, ticketing agent, flight attendant, or gate agent know.
Make these plans ahead of time so you won't be frustrated when you get there.
Was your flight delayed or cancelled?
You may be eligible to receive up to 600 EUR compensation per person in your party..
Claim Now!
Beat the Queues
Don't stand sweating for 45 mins waiting for Security. Get a fast track and get through in 5 mins or less.
Book now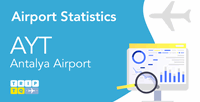 Antalya Airport in Turkey is one such airport that has demonstrated resilience in its recovery, recording a 0.20% increase in passenger volumes for September 2023 compared to the same month in 2019.